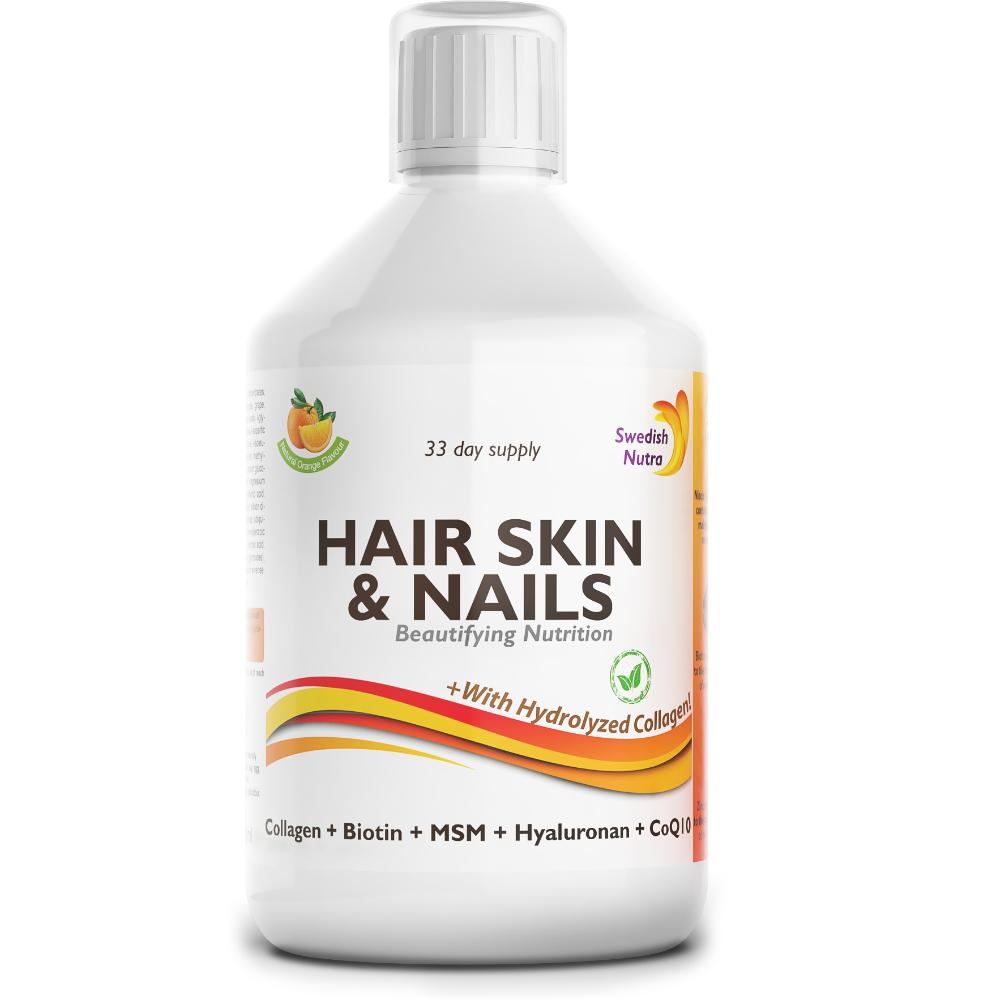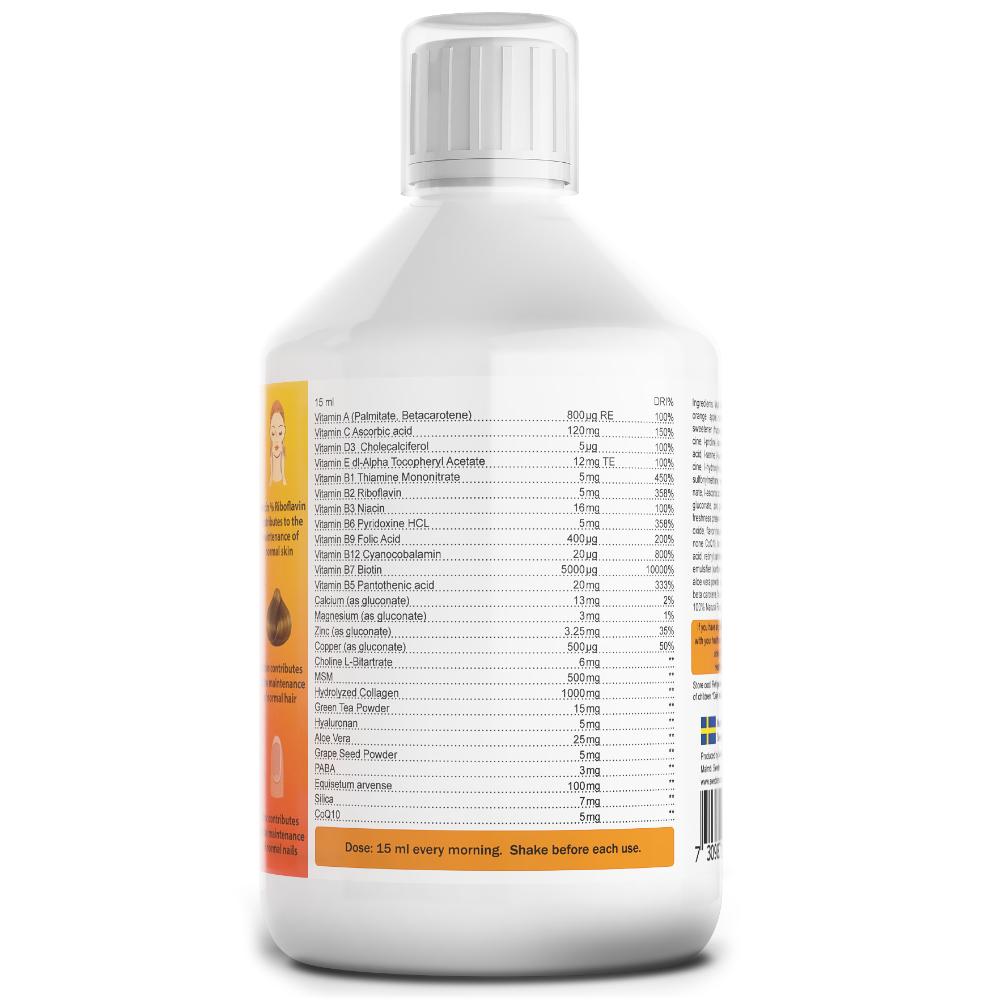 Hair, Skin and Nails with Hydrolysed Collagen
Brittle nails, weak hair with split ends, dry skin, and low collagen production are all signs that your body is lacking the vitamins and minerals needed to keep these healthy.

Rich in Antioxidants, along with a combination of collagen, vitamins and minerals, Swedish Nutra's Hair Skin and Nails formula helps replenish any shortfall, and offers maximum support for maintaining healthy strong hair, supple skin, and strong nails.

Swedish Nutra Hair, Skin & Nails, liquid supplement contains Collagen, Vitamins A, C, E, B1, B5, B9, Biotin, MSM, CoQ10

Loaded with Vitamins and Minerals
Specially Formulated for hair, skin and nails
Biotin, Collagen, MSM, Hyaluronan, CoQ10
33 Day Supply at 15ml per day(500ml Bottle)
& Free Delivery in the UK
Brittle nails, weak hair with split ends, dry skin, and low collagen production are all signs that your body is lacking the vitamins and minerals needed to keep these healthy.

Rich in Antioxidants, along with a combination of collagen, vitamins and minerals, Swedish Nutra's Hair Skin and Nails formula helps replenish any shortfall, and offers maximum support for maintaining healthy strong hair, supple skin, and strong nails.

Swedish Nutra Hair, Skin & Nails, liquid supplement contains Collagen, Vitamins A, C, E, B1, B5, B9, Biotin, MSM, CoQ10

Loaded with Vitamins and Minerals
Specially Formulated for hair, skin and nails
Biotin, Collagen, MSM, Hyaluronan, CoQ10
33 Day Supply at 15ml per day(500ml Bottle)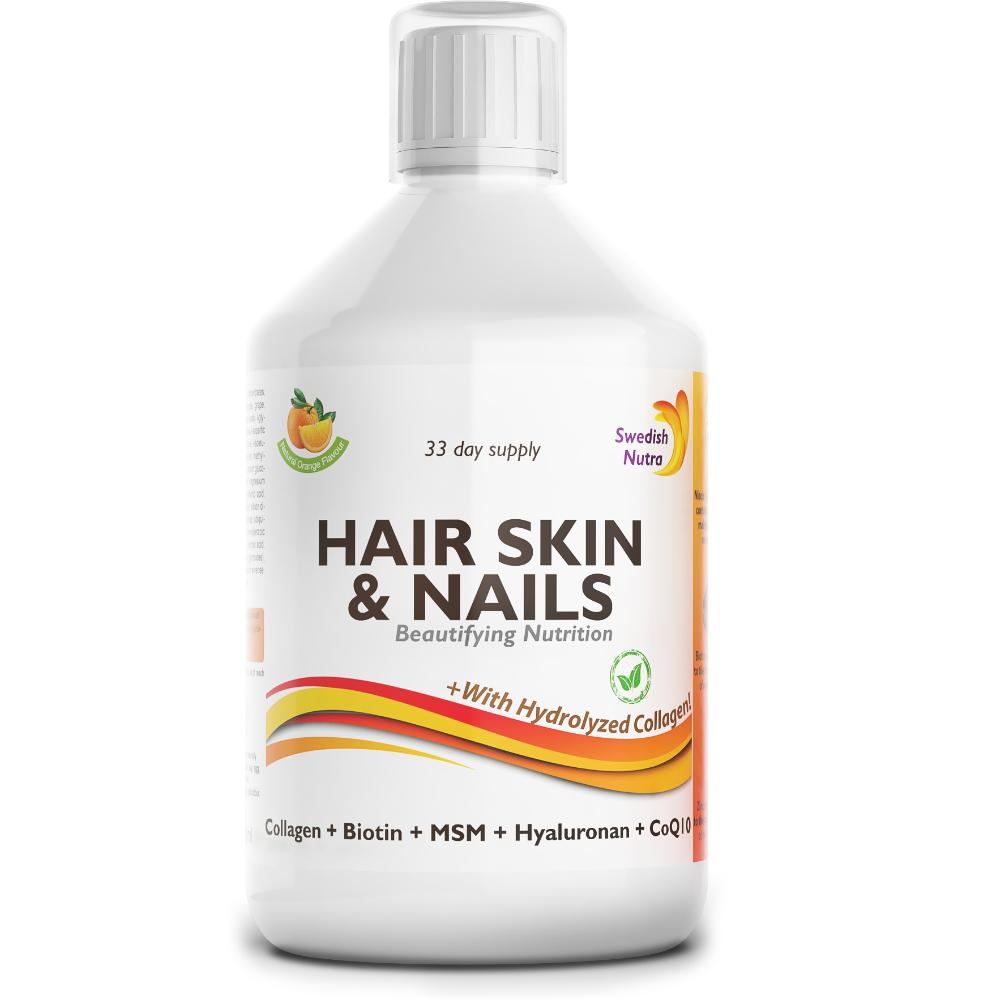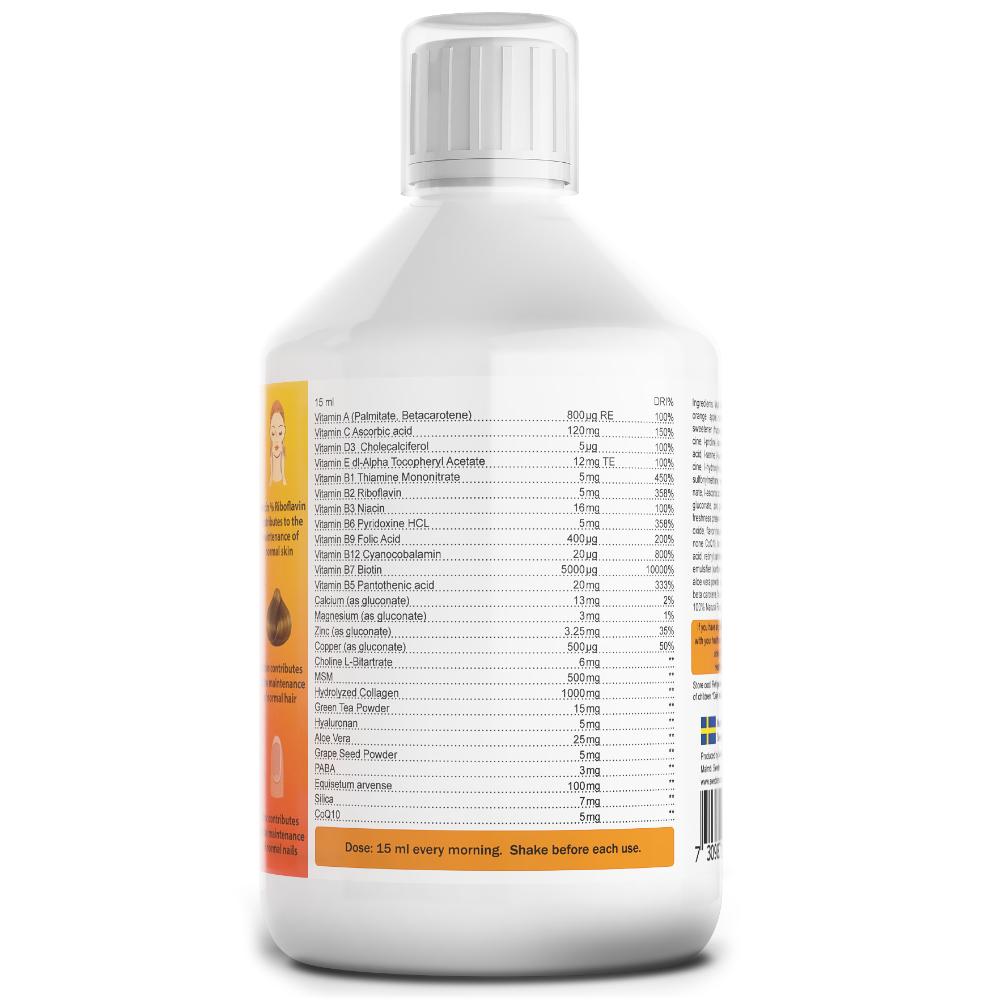 Hair, Skin and Nails with Hydrolysed Collagen
Brittle nails, weak hair with split ends, dry skin, and low collagen production are all signs that your body is lacking the vitamins and minerals needed to keep these healthy.

Rich in Antioxidants, along with a combination of collagen, vitamins and minerals, Swedish Nutra's Hair Skin and Nails formula helps replenish any shortfall, and offers maximum support for maintaining healthy strong hair, supple skin, and strong nails.

Swedish Nutra Hair, Skin & Nails, liquid supplement contains Collagen, Vitamins A, C, E, B1, B5, B9, Biotin, MSM, CoQ10

Loaded with Vitamins and Minerals
Specially Formulated for hair, skin and nails
Biotin, Collagen, MSM, Hyaluronan, CoQ10
33 Day Supply at 15ml per day(500ml Bottle)
& Free Delivery in the UK
Brittle nails, weak hair with split ends, dry skin, and low collagen production are all signs that your body is lacking the vitamins and minerals needed to keep these healthy.

Rich in Antioxidants, along with a combination of collagen, vitamins and minerals, Swedish Nutra's Hair Skin and Nails formula helps replenish any shortfall, and offers maximum support for maintaining healthy strong hair, supple skin, and strong nails.

Swedish Nutra Hair, Skin & Nails, liquid supplement contains Collagen, Vitamins A, C, E, B1, B5, B9, Biotin, MSM, CoQ10

Loaded with Vitamins and Minerals
Specially Formulated for hair, skin and nails
Biotin, Collagen, MSM, Hyaluronan, CoQ10
33 Day Supply at 15ml per day(500ml Bottle)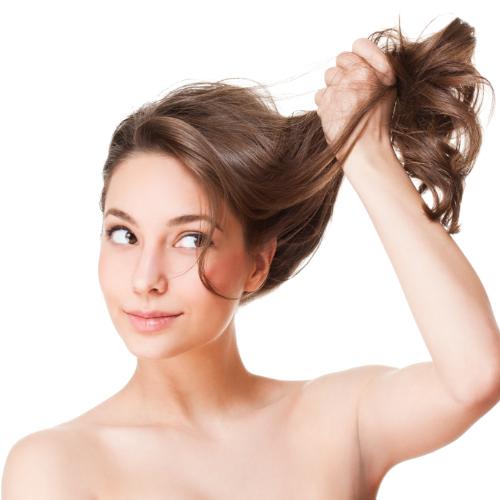 What Is Swedish Nutra Hair, Skin And Nails?
Vitamin and mineral deficiencies can cause a variety of issue for your hair, nails and skin. Dull dry skin, split weak hair, brittle weak nails, as well as numerous nail diseases are some tell-tale signs that your body is lacking the goodness it needs.

To aid the fight back, Swedish Nutra's Hair, Skin & Nails liquid vitamin formula harnesses the power of 27 active ingredients all designed to feed and nourish your body. It helps stimulates hair growth, strengthens nails, and helps to combat the effects of aging.
This hydrolysed collagen-containing complex recipe is jam-packed with skin-loving ingredients like hyaluronic acid, coenzyme Q10, and MSM. Skin health is improved, anti-aging is aided, and hormonal balance is restored. It contributes to the smoothness and elasticity of the skin by increasing its ability to retain moisture. It helps reduces fatigue and protects cells from oxidative stress by slowing the appearance of wrinkles. It contains zinc, silicon, aloe vera, and green tea, all of which are high in B vitamins.

Benefits of Swedish Nutra Hair, Skin and Nails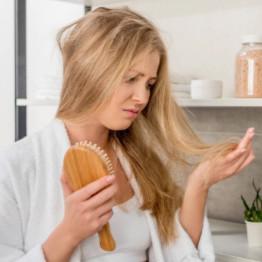 Healthy, Strong Hair, Skin, and Nails

A combination of collagen, vitamins and minerals offers maximum support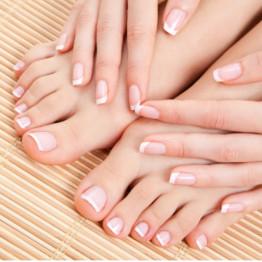 Helps Feed Your Hair
Healthy hair and nails needs food. Biotin helps to stimulate hair growth improving hair thickness and build strong nails

Ingredients list for Hair, Skin & Nails




Dose: 15 ml
Flavour: Orange Flavour

Form: Liquid

Ingredients:
Multi-filtered water, natural fruit juice blend from concentrates; orange, apple, mandarin, guava, papaya, lime, mango, pineapple, grape, sweetener (fructose), hydrolyzed collagen (contains the amino acids: l-glycine, l-proline, l-alanine, l-hydroxyproline, l-glutamic acid, l-arginine, l-aspartic acid, l-serine, l-lysine, l-leucine, l-valine, l-threonine, l-phenylalanine, l-isoleucine, l-hydroxylysine, l-methionine, l-histidine, l-tyrosine, l-cysteine), methylsulfonylmethane, calcium gluconate, l-ascorbic acid, freshness preserver (citric acid, malic acid), magnesium gluconate, zinc gluconate, dl-alpha tocopheryl acetate, pantothenic acid, freshness preserver (potassium sorbate, sodium benzoate) niacin, silicon dioxide, flavor (natural orange, natural strawberry), choline l-bitartrate, ubiquinone CoQ10, biotin, pyridoxine hcl, riboflavin, thiamine hcl, ​aminobenzoic acid, ​retinyl palmitate, cholecalciferol, copper gluconate, emulsifier (xanthan gum), ​s​odium hyaluronate, sweetener (steviol glycosides), aloe vera powder, green tea powder, grape seed powder, equisetum arvense powder, beta carotene, flavour (natural vanilla), folic acid, cyanocobalamin.

100% Natural Flavour & Natural Colour.




Notes:
Non-GMO and free from wheat, gluten, soya, egg, nuts and milk.




If you have any medical condition or if you are pregnant or nursing consult with your healthcare provider prior to use. Discontinue use if any adverse reactions occur. Health supplements should not replace a varied diet.

Suggested Use




15ml serving per day.

Warnings

Keep out of reach of children.
Consult your healthcare provider before taking if pregnant or nursing, or have any other medical concerns.